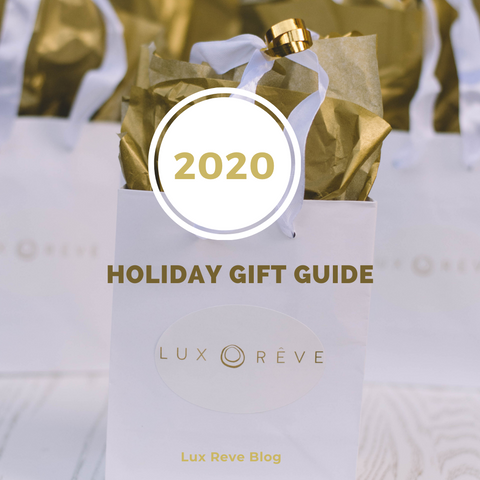 Holiday Gift Guide 2020
The festive season is finally upon us and with that brings the time to start shopping for Christmas presents for your nearest and dearest. Shopping small not only supports small businesses, like us, but it also creates the opportunity to gift your loved one with a thoughtful and handmade gift crafted with passion.
We understand that with so much choice out there, it's overwhelming to find the perfect gift. So we have put together a holiday gift guide that helps you find a gift based on the type of person you're buying for. Whether they're a spiritual goddess, a world traveller or the love of your life, we can help you find a bracelet, necklace or pair of earrings that speaks to their personality and passions in life.
For the creative mastermind
Maybe they're a painter, musician, photographer, writer or content creator. Whatever it is, they live for their art and for a good reason too.
Peridot inspires creativity, tapping into confidence and passion to help them create their next masterpiece.
We recommend:
Peridot short necklace

Mini peridot hoop earrings

Gold bezel mystic labradorite and citrine earrings
For the spiritual person who is one with the universe
They repeat self affirmations, meditate and journal every day to access their higher self. Their positive energy vibrates through you whenever you're together and they always make you feel like you can do anything you put your mind to.
Aquamarine provides a calming and soothing energy. It helps provoke deeper connection to your inner self and enhances manifestations of the body, mind and soul.
We recommend:
Aquamarine gold bezel hoop earrings

Aquamarine boho art deco earrings

Simple aquamarine and pearl dangle earrings
For the mama bear with the big heart
Children are a gift but we all know they can be intense and make life look like a tornado has passed through. Mamas are strong and resilient so choose a gift that enhances those qualities. 
Moonstone evokes tranquility which a mother needs plenty of when her angels start testing her, it also awakens feminine energies.
We recommend:
Moonstone box chain short necklace

Moonstone and pearl earrings

Boho moonstone statement earrings
For the anxious person who struggles to make time for themselves
Everyone gets anxious from time to time, but unfortunately for some their anxiety can get the better of them. Show them that they're not alone, especially during those times where it feels like the world is closing in.
Smoky Quartz brings emotional calmness to those suffering with anxiety. It's soothing properties help to relieve stress and anxiety.
We recommend:
Smoky Quartz mini art deco earrings

Bijou long necklace

Justine smoky quartz earrings
For the traveller whose wings are currently clipped
Though international travel isn't an option at the moment, it doesn't mean it won't be again. Show the traveller in your life that you're thinking of them and send them positive vibes that they will be able to explore our magnificent world again one day.
Labradorite is the traveller's stone. It will awaken their intuition and lead them to their destiny all around the world.
We recommend:
Labradorite bezel tear drop earrings

Labradorite large hoop earrings

Mini gold bezel labradorite earrings
For the person who seeks protection and needs a little extra luck
2020 has been a testing year for all of us, but maybe you have someone in your life who needs a little extra protection and strength.  
Pyrite is known to shield the wearer from negative energies and is a crystal of luck. It will strengthen their mind and willpower and help them to live a more prosperous life.
We recommend:
Pyrite art deco statement earrings

Pyrite hoop earrings

Pyrite choker necklace
For the person who is a hard working boss babe
Is there someone in your life who has taken the courageous and inspirational step to run their own business? Give them a little extra hand to call in abundance and get that business to the next level.
Citrine is the stone for attracting wealth, personal power and creativity.
We recommend:
Citrine layered bar short necklace

Citrine tear drop long suede necklace

Citrine dangle mini hoop earrings
For the person who means the most to you
They support you through tough decisions, they comfort you when you need picking up and they love you unconditionally. This person who always has your back deserves to be surrounded by your love, even when you aren't with them.
 Rose quartz is a stone of the heart, it carries an energy of compassion and tenderness. It is the crystal of unconditional love.
We recommend:
Rose quartz hoop earrings

V dangle rose quartz earrings

Rose quartz bar short necklace
For the person who likes simple everyday pieces that go with everything
They are the girls that like pieces that are timeless and compliment every look and every occasion. Dress these pieces up or down. They are pieces that any women would love to have in their current jewelry collection. You can never go wrong with simple elegant handmade pieces like these.
We recommend:
Carolina diamond earrings

Simple short bar necklace

Pearl hoop earrings
Subscribe to the Lux Rêve newsletter here to receive a 10% discount off your next purchase.
If you have any questions about any of our pieces, please feel free to reach out via our website here or Lux Rêve's Instagram.
Happy Holidays
…
This article was written by
Gabriella Wisdom